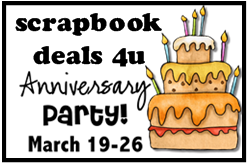 Scrapbookdeals4u.com is hosting its Second Annual Scrappy Anniversary Party!
Martha began putting kits together in March 2008 and her kit club has steadily grown in size and popularity for the past 2 years. We are all very excited to be celebrating her 2 years of great kits! The party will start tonight, March 19th, and continue through Friday, March 26th. There will be two challenges posted each day, and challenge projects are due to the gallery on Sunday March 28th. At the end of the party you will have created 16 projects and had a ton of fun! Are you ready to party?
And the best part, you can win prizes with your participation!
The GRAND PRIZE will be a brand new SD4U April kit!
Second place prize is a previous SD4U kit!
and
3rd place is a $15 gift certificate to the SD4U store!
These prizes will go to the people that complete the most projects, layouts, games, and challenges during the crop.
I hope to see you there!!!